DESIGN STUDIO™
Side Panels & Drapery
THE FINISHING TOUCH
The most decorative accent at the window, Design Studio™ stationary Side Panels and fully functioning Drapery—part of our Design Studio suite of products — add drama, frame and elongate your windows while adding depth, dimension and texture. The carefully curated collection of fabrics, including eight from NY designer Rebecca Atwood, has been hand-selected to bring a signature, finished look to any décor. Did we mention they control light gaps as well? Add them as a layer to any Hunter Douglas window treatment and your look will be complete.
KEY FEATURES
Exquisite Fabrics—Featuring luxe basics, lofty textures, alluring jacquards, artisanal embroideries and luminous sheers. Performance fabrics, that is, ones designed specifically for durability, stain resistance and UV stability, are also available.
Styles—Side panels and drapery are available in multiple styles:
• Side Panels: Two-Finger Pinch Pleat, Two-Finger European Pinch Pleat and Grommet
• Drapery: Two-Finger Pinch Pleat, Two-Finger European Pinch Pleat and Ripplefold
Fullness—Feature a deluxe 2.5x fullness. Ripplefold Drapery comes standard with 2x fullness.
Light Control—All fabrics other than sheers are fully lined with a white light-filtering or room-darkening liner.
Finishing Details—Tailored headers feature handcrafted pleats and a 4″ buckrum for uniformity and quality. 4″ double bottom hems, combined with double-turned side hems and 4″ pillow-cased turned hems, provide a custom finish.
Drapery Hardware—Design Studio features both motorized and non-motorized options for Side Panels and Drapery. 
Fabrics by the Yard—Order additional fabrics by the yard, and have them turned into beautiful accents for your room.
Pillows—Custom-made pillows are available in two exclusive sizes: a 22″ square and a 12″ x 16″ oblong.
---
Single Side Panel Width – Recommended for windows up to 36″
---
Double Side Panel Width – Recommended for windows up to 36″ and wider
---
Single Panel Heights – 24″ to 180″
Drapery Widths – 36″ to 210″
---
Drapery Heights – 24″ to 235″
---
AVAILABLE OPERATING SYSTEMS FOR 
DESIGN STUDIO™ SIDE PANELS & DRAPERY
---
PowerView®
Our brilliant wireless operating system gives you the power to control and schedule your Hunter Douglas window treatments via remote control or your mobile device, and creates a safer environment for homes with young children and pets. Learn more about PowerView®
---
Wand control eliminates pull cords completely, replacing them with a wand for enhanced child and pet safety.
AVAILABLE SPECIALTY SHAPES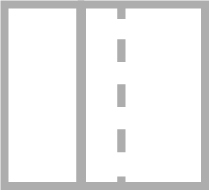 PATIO AND SLIDING-GLASS DOORS
Virtually any Hunter Douglas window treatment can be outfitted for a traditional patio or sliding-glass door, but some are better suited to these and other large expanses of windows simply because they traverse horizontally.
DESIGN STUDIO™
Side Panels & Drapery Fabrics
DESIGN STUDIO™
Side Panels & Drapery 
FABRICS, CUSTOM
HARDWARE & ACCESSORIES
To accompany the luxurious aesthetic of your Design Studio Side Panels, Drapery and Shades, sleek coordinating hardware is available in custom designs and finishes along with additional cut fabric by the yard, and complementary valances and pillows to complete your look.
Our staff are experts at helping you find the right fabric and color to fit your décor through video conference Facetime or Zoom.
HUNTER DOUGLAS
BUYERS GUIDE
HUNTER DOUGLAS
PRODUCT GUIDE
View Products and Compatability Below:
CONTACT OUR MANHATTAN SHOWROOMS
Come Visit Our Convenient Manhattan Locations:
PH: (212) 787 8040
 FX: (212) 787 8469
MON, WED, FRI 10:00 am – 5:00 pm
TUES, THURS 10:00 am – 6:00 pm
SATURDAY  10:00 PM - 4:00 PM
PH:(212) 647 1519
 FX:(212) 647 1570
MON, WED, FRI 10:00 am – 5:00 pm
TUES, THURS 10:00 am – 6:00 pm
SATURDAY 10:00 AM - 4:00 PM