MODERN PRECIOUS METALS®
Aluminum Blinds
ADD SLEEK SOPHISTICATION WITH METAL BLINDS
Streamline and declutter your interior with one of our sleekest window treatments. Modern Precious Metals® Aluminum Blinds offer maximum light control and are available in an array of slat sizes, colors and finishes, from matte to metallic to pearlescent hues.
For high-traffic homes, few window treatments withstand daily wear and tear better than these blinds.
KEY FEATURES
Every Color Available—Select from an abundance of finishes and textures, from matte to metallic to pearlescent, in a wide range of hues.
Decorative Tapes—Offered in multiple colors and patterns, decorative tapes provide a unique accent to your window treatments.
Room Darkening—For less light, choose our de-Light™ feature, which eliminates cord holes so the  sun doesn't seep through.
Durable—Modern Precious Metals Aluminum Blinds are made with our exclusive, spring-tempered alloy that allows slats to "bounce back" when withstanding rough treatment.
More Views—If doubling your view ranks high on your list of necessities, consider our MagnaView® feature, which offers twice the view-through of ordinary aluminum blinds.
---
Slat Sizes – 1/2″, 1″ or 2″
---
AVAILABLE OPERATING SYSTEMS FOR MODERN PRECIOUS METALS®
Our brilliant wireless operating system gives you the power to control and schedule your Hunter Douglas window treatments via remote control or your mobile device, and creates a safer environment for homes with young children and pets. Learn more about PowerView®
---
A cordless system that lets you simply push up with your hand to raise and pull down to lower.
---
Features a retractable wand to raise and lower your window treatments. A retractable cord and wand means there are never any long, dangling cords to detract from the appearance of the shade or blind and promote child safety.
It acts like a cord, but locks into place for easier operation and a cleaner appearance. Cord cleats are included.
Offers enhanced safety for children and pets. The contoured bottom rail makes raising and lowering simple, with no handle required.
AVAILABLE SPECIALTY SHAPES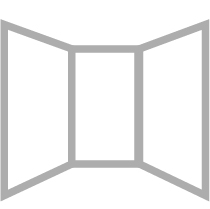 BAY AND CORNER WINDOWS
Window treatments for bay windows, corner windows and bow windows are usually standard rectangular window-treatment installations. Panels are independent of one another.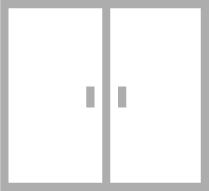 FRENCH DOORS
Window treatments for French doors are typically mounted outside of the opening (beyond the window frame), may require extension brackets or spacer blocks for proper clearance, and typically require a 'cut-out' to clear the French door handle or knob.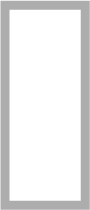 SIDELIGHTS
We offer the simple elegance of operable and non-operable window treatments for sidelight windows that are most commonly borders to entry doors.
CUT-OUTS
Cut-outs provide an opportunity to cover windows with unique architectural elements and are suggested for clearance around obstructions such as door handles, window cranks and window air conditioners.
MODERN PRECIOUS METALS®
Color Collection
Explore all Hunter Douglas fabric & color collections through our website. Visit our 2 convenient New York City locations to see and feel the full array of colors and textures.  Experience the quality and ease of use of Hunter Douglas manual and motorized operating systems.
Hunter Douglas Aluminum Blinds MagnaView®
For twice the view through, aluminum blinds with our patented MagnaView®feature combine exclusive tilt operation with traditional Hunter Douglas quality. Tilted closed, it looks like a traditional blind; tilted open, it reveals twice the view of an ordinary horizontal blind, at the same time increasing incoming light.
HUNTER DOUGLAS
BUYERS GUIDE
HUNTER DOUGLAS
PRODUCT GUIDE
View Products and Compatability Below:
CONTACT OUR MANHATTAN SHOWROOMS
Come Visit Our Convenient Manhattan Locations:
PH: (212) 787 8040
 FX: (212) 787 8469
MON, WED, FRI 10:00 am – 5:00 pm
TUES, THURS 10:00 am – 6:00 pm
SATURDAY  10:00 PM - 4:00 PM
PH:(212) 647 1519
 FX:(212) 647 1570
MON, WED, FRI 10:00 am – 5:00 pm
TUES, THURS 10:00 am – 6:00 pm
SATURDAY 10:00 AM - 4:00 PM