CLASSIC WOOD BLINDS WITH AN INHERENT RICHNESS
For warmth, classic lines and an accent of natural beauty, go with Parkland® Wood Blinds.
Rich, authentic hardwood slats complement any room. Fashioned to create a warm and inviting home, they're available in a large selection of slat sizes, stylish colors and paint and stain finishes that maintain their lustre over time.
KEY FEATURES
Variable Light Control & View-Through—Parkland blinds provide view-through without having to be raised. Rotate the slats to manage incoming light and privacy.
Large Color Collection—Parkland blinds have a varied color palette of wood stains and solid paint colors (whites, grays and neutral tones) that complement today's cabinetry and furniture styles.​
Unique Textures—Options include natural wood grains; a highly textured wire-brushed look that provides a distressed appearance; and a subtle ticking appearance that embellishes natural textures found in our Abachi hardwood slats.
Sustainability—Our basswood and Abachi hardwoods are harvested from responsibly managed forests. For every Parkland blind purchased, Hunter Douglas makes a donation to the Arbor Day Foundation® to support its efforts to plan and preserve trees and the rainforest.
Decorative Tapes—Add a special accent to your window treatments with decorative tapes, available in a variety of colors and patterns.
Advanced Finishing Technology—Parkland blinds receive maximum protection to maintain their beauty.
Room Darkening—Our de-Light™ feature eliminates cord holes and reduces light leaks, blocking 50% more light than a traditional wood blind construction.
---
Slat Sizes – 1 3/8″, 2″ or 2 1/2″
---
AVAILABLE OPERATING SYSTEMS FOR
PARKLAND®
Our brilliant wireless operating system gives you the power to control and schedule your Hunter Douglas window treatments via remote control or your mobile device, and creates a safer environment for homes with young children and pets. Learn more about PowerView®
A cordless system that lets you simply push up with your hand to raise and pull down to lower.
Features a retractable wand to raise and lower your window treatments. A retractable cord and wand means there are never any long, dangling cords to detract from the appearance of the shade or blind and promote child safety.
Offers enhanced safety for children and pets. The contoured bottom rail makes raising and lowering simple, with no handle required.
---
Standard Cordlock
It acts like a cord, but locks into place for easier operation and a cleaner appearance. Cord cleats are included.
AVAILABLE SPECIALTY SHAPES
ARCHES
Arches can come in many different sizes and configurations, including stationary, extended, half circle, half moon, quarter circle, perfect, imperfect, eyebrow and Gothic.
ANGLES
Angled windows come in many variations, including right triangles, isosceles triangles and top/bottom-sloped windows.
CUT-OUTS
We offer many versatile and durable options to help you cover even these uncommonly shaped windows.
CIRCLES, OVALS
We offer many versatile and durable options to help you cover even these uncommonly shaped windows.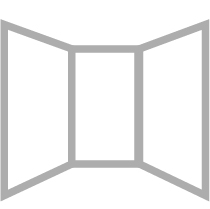 BAY AND CORNER WINDOWS
Window treatments for bay windows, corner windows and bow windows are usually standard rectangular window-treatment installations. Panels are independent of one another.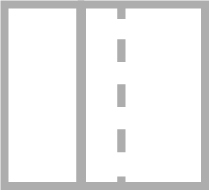 PATIO AND SLIDING GLASS DOORS
Virtually any Hunter Douglas window treatment can be outfitted for a traditional patio or sliding-glass door, but some are better suited to these and other large expanses of windows simply because they traverse horizontally.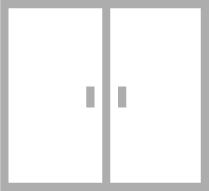 FRENCH DOORS
Window treatments for French doors are typically mounted outside of the opening (beyond the window frame), may require extension brackets or spacer blocks for proper clearance, and typically require a 'cut-out' to clear the French door handle or knob.
PARKLAND®
Wood Blinds Color Collection
Explore all Hunter Douglas fabric collections through our website. Visit our 2 convenient New York City locations to see and feel the full array of colors and textures.  Experience the quality and ease of use of Hunter Douglas manual and motorized operating systems.
Parkland wood cornices are a great addition over any window treatment, especially draperies. With detailed hand craftsmanship in 100% domestic wood, in a selection of styles, heights and decorative options. For more information about our Parkland wood cornices contact Crosstown Custom Shade & Glass.
HUNTER DOUGLAS
BUYERS GUIDE
HUNTER DOUGLAS
PRODUCT GUIDE
View Products and Compatability Below:
CONTACT OUR MANHATTAN SHOWROOMS
Come Visit Our Convenient Manhattan Locations:
PH: (212) 787 8040
 FX: (212) 787 8469
Closed Monday, Sept 25
Yom Kippur
MON, WED, FRI 10:00 am – 5:00 pm
TUES, THURS 10:00 am – 6:00 pm
SATURDAY - 10:00 AM - 4:00 PM

PH:(212) 647 1519
 FX:(212) 647 1570
Closed Monday, Sept 25
Yom Kippur
MON, WED, FRI 10:00 am – 5:00 pm
TUES, THURS 10:00 am – 6:00 pm
SATURDAY - 10:00 AM - 4:00 PM