Palm Beach™ Polysatin™
Shutters
PLANTATION SHUTTERS MADE TO TAKE THE HEAT
Living in hot, humid or extreme climates is easier with our Palm Beach™ shutters.
Building the signature look of plantation shutters with our durable, UV-resistant Polysatin™ material prevents warping, cracking, fading, chipping and peeling even when exposed to intense sunlight and moisture.
Consider them a worry-free investment that adds new dimension to your home's décor.
KEY FEATURES
Palm Beach Promise™—We offer a lifetime guarantee that your Palm Beach shutters will never warp, crack, fade, chip, peel or discolor.
Water Resistant—The unique Polysatin compound is resistant to moisture and mildew, so Palm Beach shutters work very well in damp or humid spaces.
DuraLux™ Finish—This special treatment creates the look of a finely painted shutter with a matte finish on all of our Palm Beach shutters Polysatin colors.
Built to Last—Interior aluminum bracing and resin blocks add superior strength.
Motorization—Palm Beach shutters with PowerView® Motorization are the only motorized shutter on the market, perfect for hands-free louver operation. An exclusive override feature also allows for manual operation; simply move the louvers by hand without worrying about damaging the motor.
​
---
Louver Sizes – 2 1/2″, 3 1/2″ or 4 1/2″
---
AVAILABLE OPERATING SYSTEMS FOR PALM BEACH™
Our brilliant wireless operating system gives you the power to control and schedule your Hunter Douglas window treatments via remote control or your mobile device, and creates a safer environment for homes with young children and pets. Learn more about PowerView®
A cordless system that lets you simply push up with your hand to raise and pull down to lower.
Features a retractable wand to raise and lower your window treatments. A retractable cord and wand means there are never any long, dangling cords to detract from the appearance of the shade or blind and promote child safety.
Pulling down on the front of this continuous loop lowers your shade. Pulling on the rear of the loop raises it.
Light diffusion and room darkening together in one extraordinary product.
AVAILABLE SPECIALTY SHAPES
ARCHES
Arches can come in many different sizes and configurations, including stationary, extended, half circle, half moon, quarter circle, perfect, imperfect, eyebrow and Gothic.
ANGLES
Angled windows come in many variations, including right triangles, isosceles triangles and top/bottom-sloped windows.
TRAPEZOIDS
Trapezoidal, or tapered-side, windows come in many different configurations and angles. These windows consist of four sides with at least one pair of parallel sides.
CIRCLES, OVALS
We offer many versatile and durable options to help you cover even these uncommonly shaped windows.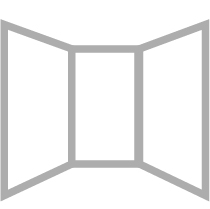 BAY AND CORNER WINDOWS
Window treatments for bay windows, corner windows and bow windows are usually standard rectangular window-treatment installations. Panels are independent of one another.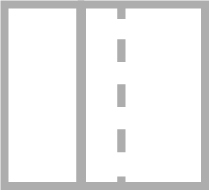 PATIO AND SLIDING GLASS DOORS
Virtually any Hunter Douglas window treatment can be outfitted for a traditional patio or sliding-glass door, but some are better suited to these and other large expanses of windows simply because they traverse horizontally.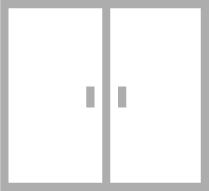 FRENCH DOORS
Window treatments for French doors are typically mounted outside of the opening (beyond the window frame), may require extension brackets or spacer blocks for proper clearance, and typically require a 'cut-out' to clear the French door handle or knob.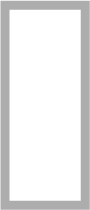 SIDELIGHTS
We offer the simple elegance of operable and non-operable window treatments for sidelight windows that are most commonly borders to entry doors.
Explore all Hunter Douglas fabric & color collections through our website. Visit our 2 convenient New York City locations to see and feel the full array of colors and textures.  Experience the quality and ease of use of Hunter Douglas manual and motorized operating systems.
Shutters that are Guaranteed
Our Palm Beach™ Polysatin™ shutters are plantation-style shutters constructed with UV resistant Polysatin compound, so they're guaranteed never to warp, crack, fade, chip, peel or discolor, regardless of extreme heat or moisture.
HUNTER DOUGLAS
BUYERS GUIDE
HUNTER DOUGLAS
PRODUCT GUIDE
View Products and Compatability Below:
CONTACT OUR MANHATTAN SHOWROOMS
Come Visit Our Convenient Manhattan Locations:
PH: (212) 787 8040
 FX: (212) 787 8469
MON, WED, FRI 10:00 am – 5:00 pm
TUES, THURS 10:00 am – 6:00 pm
SATURDAY - 10:00 AM - 4:00 PM

PH:(212) 647 1519
 FX:(212) 647 1570
MON, WED, FRI 10:00 am – 5:00 pm
TUES, THURS 10:00 am – 6:00 pm
SATURDAY - 10:00 AM - 4:00 PM