SCIENCE BEHIND THE SHADE
Particularly perfect for patios and sunrooms—but compatible with all light-filled spaces—our Designer Screen Shades maintain your outdoor views while providing UV protection and curbing harsh rays to protect your works of art or fade-prone furniture.
KEY FEATURES
Special Fabrics—The Designer Screen fabrics collection, one of the most robust in the industry, includes unique choices such as multicolor designs and textures.
UV Protection—Protect your furniture, flooring and artwork from fading. Designer Screen fabrics block between 86% and 99% of the sun's damaging rays.
Superior Operation—The Custom Clutch operating system features modern hardware and precision-tuned lift technology that delivers smooth operation, ease of lifting and the smallest light gap in the industry.
Multiple Opacities—Designer Screen fabrics are organized by openness factor. Openness is the weave density of screen fabric affecting the degree of visibility, privacy, glare and UV blockage. There are five options, ranging from most view/least privacy to minimal view/maximum privacy.
Top & Bottom Treatments—Customize these shades with top treatments that conceal the fabric roll for a clean look. A selection of bottom treatments includes fabric-wrapped options.
---
 AVAILABLE OPERATING SYSTEMS FOR DESIGNER SCREEN SHADES
Our brilliant wireless operating system gives you the power to control and schedule your Hunter Douglas window treatments via remote control or your mobile device, and creates a safer environment for homes with young children and pets. Learn more about PowerView®
A cordless system that lets you simply push up with your hand to raise and pull down to lower.
Pulling down on the front of this continuous loop lowers your shade. Pulling on the rear of the loop raises it.
---
SoftTouch™
A battery-powered system with wand-controlled operation.
Features a retractable wand to raise and lower your window treatments. A retractable cord and wand means there are never any long, dangling cords to detract from the appearance of the shade or blind and promote child safety.
A traditional spring-assist system to raise and lower large window coverings. No cords required.
---
Continuous Cord Loop
A continuous loop works on the principle of a pulley, rotating a clutch to raise or lower the shade.
AVAILABLE SPECIALTY SHAPES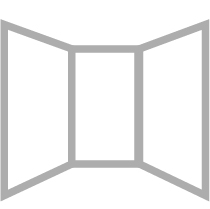 BAY AND CORNER WINDOWS
Window treatments for bay windows, corner windows and bow windows are usually standard rectangular window-treatment installations. Panels are independent of one another.
DESIGNER SCREEN SHADES 
FABRIC COLLECTIONS
Explore all Hunter Douglas fabric & color collections through our website. Visit our 2 convenient New York City locations to see and feel the full array of colors and textures.  Experience the quality and ease of use of Hunter Douglas manual and motorized operating systems.
HUNTER DOUGLAS
BUYERS GUIDE
HUNTER DOUGLAS
PRODUCT GUIDE
View Products and Compatability Below:
CONTACT OUR MANHATTAN SHOWROOMS
Come Visit Our Convenient Manhattan Locations:
PH: (212) 787 8040
 FX: (212) 787 8469
MON, WED, FRI 10:00 am – 5:00 pm
TUES, THURS 10:00 am – 6:00 pm
SATURDAY - 10:00 AM - 4:00 PM

PH:(212) 647 1519
 FX:(212) 647 1570
MON, WED, FRI 10:00 am – 5:00 pm
TUES, THURS 10:00 am – 6:00 pm
SATURDAY - 10:00 AM - 4:00 PM