THE ORIGINAL ENERGY-EFFICIENT HONEYCOMB SHADE
An innovative window treatment that looks beautiful and insulates your home all year round, Duette® Honeycomb Shades were the first cellular shades, specially engineered to provide energy efficiency at the window in both cold and warm climates. Their specially engineered honeycomb construction traps air in distinct pockets, which creates insulation that can help lower your energy consumption and energy bills.
Decorate every kind of window you have—even tricky skylights and unusually shaped panes—with Duette. Our signature honeycomb shades are one of our most versatile options and beautify every kind of interior.
KEY FEATURES
Premium Design & Style—Explore the richness of texture and warmth offered by The Alustra® Collection of Duette, a thoughtfully curated suite of exclusive design-inspired fabrics, textures, colors and hardware created to meet the expectations of leading designers and discerning consumers who seek the best in design.
Largest Selection in the Industry—Explore the widest selection of cellular pleat sizes, opacities, colors, textures and operating systems. Duette shades can also accommodate many specialty shaped windows, even tricky skylights.
Energy-Efficiency—Studies show that windows are responsible for up to 50% of your home's energy losses. Duette shades trap air in distinct pockets, creating exceptional insulation. Our latest innovation, Duette Architella®, features a honeycomb-within-a-honeycomb design for even greater energy efficiency.
Room Darkening—The LightLock™ system, the newest iteration from Duette, is the first operating system of its kind to offer unparalleled darkness. The secret lies within the patent-pending side channel design, optimized to absorb or deflect nearly all incoming light.
Durability—All of our high-performing fabrics are resistant to fading and will maintain their crisp, neat pleats over time.
Vertical Application—For doors that need extra insulation, the Duette Vertiglide™ operating system is the ideal option. It's designed for vertical applications and uses the same fabrics as your horizontal Duette shades. Use one shade to cover the entire expanse of a sliding door, or, cover the door with a split stack Vertiglide shade, with each side operating independently.
Sound Absorption—Improve your room's acoustics while reducing the intensity of outside sound. Duette Honeycomb Shades absorb up to 70% of sound energy, creating a more quiet, tranquil room.
---
Orientation – Horizontal or Vertical
---
Pleat Sizes – 3/8″, 3/4″ or 1 1/4″
---
Widths – Horiz. 4″ – 174 | Vert. 12″ – 336″
---
Heights – Horiz. 6″- 144″ Vert. 24″ – 120″
AVAILABLE OPERATING SYSTEMS FOR DUETTE®
Our brilliant wireless operating system gives you the power to control and schedule your Hunter Douglas window treatments via remote control or your mobile device, and creates a safer environment for homes with young children and pets.
---
LiteRise®
A cordless system that lets you simply push up with your hand to raise and pull down to lower.
---
UltraGlide®
Features a single retractable cord or wand depending on your window treatment choice. The cord and wand always remains a constant length when raising and lowering your window treatments. With no long, dangling cords this system offers enhanced child and pet safety.
---
EasyRise™
Pulling down on the front of this continuous loop lowers your shade. Pulling on the rear of the loop raises it.
---
Vertiglide™
The ideal choice for side-to-side openings, sliding glass doors or as a room divider.
---
Top-Down/Bottom-Up
Open from the top or the bottom, or settle somewhere in between, to create the perfect balance of privacy and natural light.
---
Duolite®
Light diffusion and room darkening together in one extraordinary product.
---
LightLock™
Our innovative LightLock™ system, available with Duette®Honeycomb Shades, is the only system of its kind that provides unparalleled blackout capability.
---
TrackGlide™
Made especially for European style tilt-turn windows, the TrackGlide™ system with Duette® Honeycomb Shades keeps shades in place when windows swing like a door or tilt from the top.
---
SkyLift™
Control your skylight shades with PowerView® Motorization or manually with a hand crank or telescoping pole for hard-to-reach windows.
---
Simplicity™
A manual operating system especially suited for skylights that has the light-diffusion and energy-efficiency benefits of honeycomb shades.
AVAILABLE SPECIALTY SHAPES
ARCHES
Arches can come in many different sizes and configurations, including stationary, extended, half circle, half moon, quarter circle, perfect, imperfect, eyebrow and Gothic.
ANGLES
Angled windows come in many variations, including right triangles, isosceles triangles and top/bottom-sloped windows.
TRAPEZOIDS
Trapezoidal, or tapered-side, windows come in many different configurations and angles. These windows consist of four sides with at least one pair of parallel sides.
CIRCLES, OVALS
We offer many versatile and durable options to help you cover even these uncommonly shaped windows.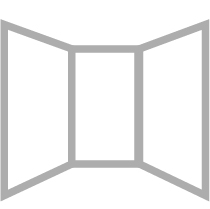 BAY AND CORNER WINDOWS
Window treatments for bay windows, corner windows and bow windows are usually standard rectangular window-treatment installations. Panels are independent of one another.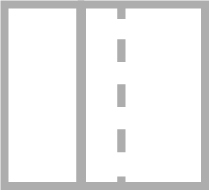 PATIO AND SLIDING GLASS DOORS
Virtually any Hunter Douglas window treatment can be outfitted for a traditional patio or sliding-glass door, but some are better suited to these and other large expanses of windows simply because they traverse horizontally.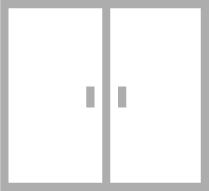 FRENCH DOORS
Window treatments for French doors are typically mounted outside of the opening (beyond the window frame), may require extension brackets or spacer blocks for proper clearance, and typically require a 'cut-out' to clear the French door handle or knob.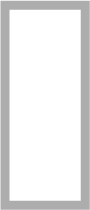 SIDELIGHTS
We offer the simple elegance of operable and non-operable window treatments for sidelight windows that are most commonly borders to entry doors.
HEXAGON
While unique window shapes such as hexagons and octagons are not as common as other window shapes, Hunter Douglas still offers you the opportunity to cover them.
CUT-OUTS
Cut-outs provide an opportunity to cover windows with unique architectural elements and are suggested for clearance around obstructions such as door handles, window cranks and window air conditioners.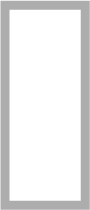 DUETTE®
FABRIC COLLECTIONS
Explore all Hunter Douglas fabric collections through our website. Visit our 2 convenient New York City locations to see and feel the full array of colors and textures.  Experience the quality and ease of use of Hunter Douglas manual and motorized operating systems.
THE ALUSTRA®
COLLECTION OF DUETTE
Created to meet the expectations of leading designers and discerning consumers who seek the best in design, The Alustra® Collection from Hunter Douglas is a thoughtfully curated collection of custom window treatments offering exclusive design-inspired fabrics, textures, colors and hardware finishes.
HUNTER DOUGLAS
BUYERS GUIDE
HUNTER DOUGLAS
PRODUCT GUIDE
View Products and Compatability Below:
CONTACT OUR MANHATTAN SHOWROOMS
Come Visit Our Convenient Manhattan Locations:
PH: (212) 787 8040
 FX: (212) 787 8469
MON, WED, FRI 10:00 am – 5:00 pm
TUES, THURS 10:00 am – 6:00 pm
SATURDAY - 10:00 AM - 4:00 PM

PH:(212) 647 1519
 FX:(212) 647 1570
MON, WED, FRI 10:00 am – 5:00 pm
TUES, THURS 10:00 am – 6:00 pm
SATURDAY - 10:00 AM - 4:00 PM