Designer Roller Shades
by Hunter Douglas
Designer Roller Duolite
®
 Shades
Diffused Light and Room Darkening. Now in a Single Roller Shade
With Designer Roller Duolite® Shades, you don't have to choose between view-through and privacy. A light-filtering sheer or semi-sheer fabric and an opaque liner are combined into one shade to give you the best of both worlds. Contact us to discover more about Designer Roller Duolite Shades.
THE ONLY TWO-IN-ONE ROLLER
Designer Roller Duolite® Shades boast the first-ever double-fabric combination of a light-filtering sheer and a room-darkening opaque liner in a single roller shade. Enjoy softly filtered light when you want it and privacy when you need it.
Our extensive collection of trend-setting fabrics, colors, textures and opacities offer you an abundance of options for showing off your style, while nine color-coordinated bracket covers as well as Pearl Chrome and Burnished Chestnut brackets provide the ultimate crowning touch.
Premium craftsmanship is what separates Designer Roller Shades from other roller options. Each shade is precision-engineered, so you enjoy smooth, flawless operation and minimal light gaps.
FOR SMART LIVING
PowerView® Motorization lets you schedule your Shades to open and close on their own—at any time of the day—with the touch of a button, a tap on a mobile device or the sound of your voice. So forgo the alarm clock, and use light as a wake-up call instead.*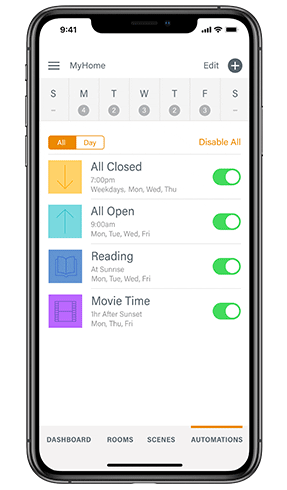 CONTACT OUR MANHATTAN SHOWROOMS
Come Visit Our Convenient Manhattan Locations:
PH: (212) 787 8040
 FX: (212) 787 8469
MON, WED, FRI 10:00 am – 5:00 pm
TUES, THURS 10:00 am – 6:00 pm
SATURDAY - 10:00 AM - 4:00 PM

PH:(212) 647 1519
 FX:(212) 647 1570
MON, WED, FRI 10:00 am – 5:00 pm
TUES, THURS 10:00 am – 6:00 pm
SATURDAY - 10:00 AM - 4:00 PM