Imagine a Roman shade that has uniform, contoured or flat-fabric folds, and no exposed rear cords. We've eliminated all the issues from the standard Roman, and created a flawless modern shade.
INTRODUCING VIGNETTE® DUOLITE®
The Duolite dual-opacity option perfectly answers your desire for the best of both worlds—soft, natural light or soothing darkness. Now available on Vignette® Modern Roman Shades, this revolutionary design combines a light-filtering or sheer front shade with a room-darkening back panel that both roll on a single roller. It's day-night convenience at your fingertips.
PREMIUM FABRICS + NEW SHEER
From fabric choice down to the smallest details like fabric-wrapped hardware, we take pride in creating custom products in an array of luxurious textures and colors that transform your windows. 
Our new sheer fabric, Leela, comes in six subtle colors. Choose Leela as your front shade fabric in the Duolite option or as your single choice in a standard Vignette Modern Roman Shade.
FOR SMART LIVING
PowerView® Motorization lets you schedule your Shades to open and close on their own—at any time of the day—with the touch of a button, a tap on a mobile device or the sound of your voice. So forgo the alarm clock, and use light as a wake-up call instead.*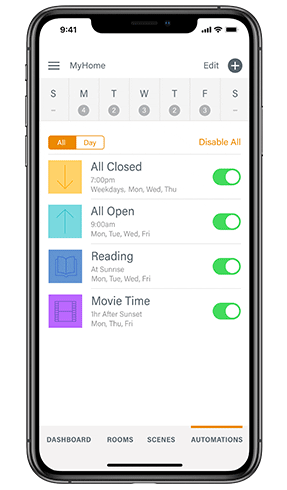 CONTACT OUR MANHATTAN SHOWROOMS
Come Visit Our Convenient Manhattan Locations:
PH: (212) 787 8040
 FX: (212) 787 8469
MON, WED, FRI 10:00 am – 5:00 pm
TUES, THURS 10:00 am – 6:00 pm
SATURDAY - 10:00 AM - 4:00 PM

PH:(212) 647 1519
 FX:(212) 647 1570
MON, WED, FRI 10:00 am – 5:00 pm
TUES, THURS 10:00 am – 6:00 pm
SATURDAY - 10:00 AM - 4:00 PM