REFINED TEXTURES AND STYLE—OUR MOST LUXURIOUS WINDOW TREATMENTS
An innovative alternative to woven woods and solar screens, The Alustra® Collection of Woven Textures® is inspired by design. Fabrics—from French linen to lustrous charmeuse—are globally-sourced to create a truly elevated, premium window treatment. Alustra Woven Textures are available in Roller Shades, Roman Shades and Skyline® Gliding Window Panels.
KEY FEATURES
Exclusive Fabrics­—Textiles in the Alustra Collection are made with unique fiber and texture combinations. Like a soft, lustrous silk or a nubby tweed, the materials offer depth and visual interest.
Roller Shades—Alustra Roller Shades are available with a dual roller option that pairs any Woven Textures fabric with a rear roller shade, which can be operated as an independent liner.
Roman Shades—Alustra Roman Shades are two shades in one. Offering total light control and privacy, our independent liner option provides versatility and functionality with the clean look of a single headrail.
Skyline Gliding Window Panels—Alustra Skyline Gliding Window Panels are a patented twist on traditional panel track blinds. These contemporary panels are ideal for covering large windows or function as room dividers.
---
Orientation – Horizontal or Vertical
---
Batten/Panel Size – 6 3/4″ / 11″ or 17″
---
Widths – Horiz. 12″-120″ | Vert. 28″ – 384″
---
Heights – Horiz. 12″ to 120″ | Vert. 9″ – 168″
---
AVAILABLE OPERATING SYSTEMS FOR ALUSTRA® WOVEN TEXTURES®
Our brilliant wireless operating system gives you the power to control and schedule your Hunter Douglas window treatments via remote control or your mobile device, and creates a safer environment for homes with young children and pets.
A cordless system that lets you simply push up with your hand to raise and pull down to lower.
---
UltraGlide®
Features a single retractable cord or wand depending on your window treatment choice. The cord and wand always remains a constant length when raising and lowering your window treatments. With no long, dangling cords this system offers enhanced child and pet safety.
---
SoftTouch™
A battery-powered system with wand-controlled operation.
Standard Cordlock
It acts like a cord, but locks into place for easier operation and a cleaner appearance. Cord cleats are included.
Pulling down on the front of this continuous loop lowers your shade. Pulling on the rear of the loop raises it.
Open from the top or the bottom, or settle somewhere in between, to create the perfect balance of privacy and natural light.
---
Limitations and restrictions may apply. Contact or visit Crosstown Custom Shade & Glass for more details about operating systems available, and color/fabric options.
AVAILABLE SPECIALTY SHAPES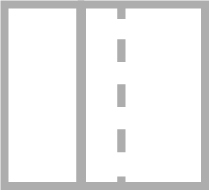 PATIO AND SLIDING GLASS DOORS
Virtually any Hunter Douglas window treatment can be outfitted for a traditional patio or sliding-glass door, but some are better suited to these and other large expanses of windows simply because they traverse horizontally.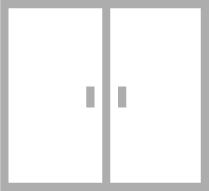 FRENCH DOORS
Window treatments for French doors are typically mounted outside of the opening (beyond the window frame), may require extension brackets or spacer blocks for proper clearance, and typically require a 'cut-out' to clear the French door handle or knob.
ALUSTRA®

 

WOVEN TEXTURES®
FABRIC COLLECTIONS
Explore all Hunter Douglas product features and fabric collections through our website. You can visit our 2 convenient New York City locations to see and feel the full array of colors and textures.  Experience the quality and ease of use of Hunter Douglas manual and motorized operating systems at our showrooms.
HUNTER DOUGLAS
BUYERS GUIDE
HUNTER DOUGLAS
PRODUCT GUIDE
View Products and Compatability Below:
CONTACT OUR MANHATTAN SHOWROOMS
Come Visit Our Convenient Manhattan Locations:
PH: (212) 787 8040
 FX: (212) 787 8469
MON, WED, FRI 10:00 am – 5:00 pm
TUES, THURS 10:00 am – 6:00 pm
SATURDAY  10:00 PM - 4:00 PM
PH:(212) 647 1519
 FX:(212) 647 1570
MON, WED, FRI 10:00 am – 5:00 pm
TUES, THURS 10:00 am – 6:00 pm
SATURDAY 10:00 AM - 4:00 PM