VERTICAL SOLUTIONS®
Vertical Blinds
AN ECONOMICAL VERTICAL BLIND WITH A DESIGNER LOOK
Take a minimalist approach to decorating your space with Vertical Solutions® Vertical Blinds—an essential collection of window treatments that provides a lifetime of trouble-free operation. Available in both fabric and vinyl options, this window treatment brings a clean, simplistic energy into your home and keeps your art and furniture in the spotlight.
KEY FEATURES
Color Options—Vertical Solutions blinds are offered in both fabric and vinyl and in several patterns and colors.
Absorb Sound—Improve your room's acoustics while reducing the intensity of outside noise. The degree of sound control will depend on the fabric you choose, so if this is an important feature to you, be sure to discuss it with your Hunter Douglas specialist.
​
Vane Sizes – 3 1/2″ or S-shaped
---
AVAILABLE OPERATING SYSTEMS FOR VERTICAL SOLUTIONS®
Provides smooth operation and superior light control.
---
Vertical Motorized System
For convenience and effortless vertical operation at the touch of a button.
Eliminates looped pull cords completely, replacing them with a wand that remains safely out of a child's reach.
---
Combination Wand / Cord Control
A combination wand/cord that provides a single control to traverse and rotate the vanes or louvers.
AVAILABLE SPECIALTY SHAPES
ARCHES
Arches can come in many different sizes and configurations, including stationary, extended, half circle, half moon, quarter circle, perfect, imperfect, eyebrow and Gothic.
ANGLES
Angled windows come in many variations, including right triangles, isosceles triangles and top/bottom-sloped windows.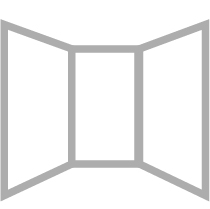 BAY AND CORNER WINDOWS
Window treatments for bay windows, corner windows and bow windows are usually standard rectangular window-treatment installations. Panels are independent of one another.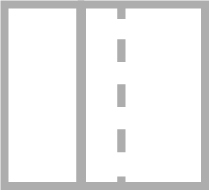 PATIO AND SLIDING GLASS DOORS
Virtually any Hunter Douglas window treatment can be outfitted for a traditional patio or sliding-glass door, but some are better suited to these and other large expanses of windows simply because they traverse horizontally.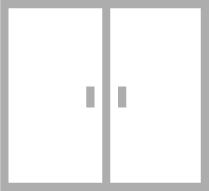 FRENCH DOORS
Window treatments for French doors are typically mounted outside of the opening (beyond the window frame), may require extension brackets or spacer blocks for proper clearance, and typically require a 'cut-out' to clear the French door handle or knob.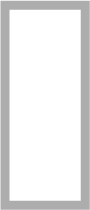 SKYLIGHTS
We have window treatments made especially for skylights.
Explore all Hunter Douglas fabric collections through our website. Visit our 2 convenient New York City locations to see and feel the full array of colors and textures.  Experience the quality and ease of use of Hunter Douglas manual and motorized operating systems.
HUNTER DOUGLAS
BUYERS GUIDE
HUNTER DOUGLAS
PRODUCT GUIDE
View Products and Compatability Below:
CONTACT OUR MANHATTAN SHOWROOMS
Come Visit Our Convenient Manhattan Locations:
PH: (212) 787 8040
 FX: (212) 787 8469
MON, WED, FRI 10:00 am – 5:00 pm
TUES, THURS 10:00 am – 6:00 pm
SATURDAY - 10:00 AM - 4:00 PM

PH:(212) 647 1519
 FX:(212) 647 1570
MON, WED, FRI 10:00 am – 5:00 pm
TUES, THURS 10:00 am – 6:00 pm
SATURDAY - 10:00 AM - 4:00 PM