NEWSTYLE®
Hybrid Shutters
PLANTATION SHUTTERS THAT WITHSTAND THE TEST OF TIME
Enjoy the richness of wooden plantation shutters without the worry of what weather and time will do to them. Durable NewStyle® Hybrid Shutters blend the beauty of real wood with advanced, modern-day materials to keep your shutters looking like new—even through extreme weather and over many years.
KEY FEATURES
Hybrid Material—NewStyle shutters are made from a wood composite material co-extruded with a polypropylene coating for a quality product that's built to last.
Finetech® Finish—Our proprietary Finetech low-luster finish replicates the warmth and character of solid wood on all NewStyle Hybrid Shutter colors.
UltraGrain™—A grain-like finish mimics the beautiful look of genuine wood.
Quality Construction—Truemill® dovetail construction is a master woodworking technique. This structurally sound method holds panels together by interlocking the components.
Specialty Shapes—NewStyle shutters are available in a wide range of specialty shapes, including arches, angles, circles and more.
---
Louver Sizes – 2″1/2, 3 1/2″ or 4 1/2″
---
 AVAILABLE OPERATING SYSTEMS FOR NEWSTYLE® Hybrid Shutters
Panels are connected to a top track which supports the panels and guides their hinged, folding movement.
Shutter panels slide past each other on top tracks to open and close.
Panels are hinged both together and to the window frame.
---
Front Tilt Bar
Our centered front tilt bars enable the louvers to be closed tightly up or down in the traditional manner.
To operate, simply tilt one louver to the desired position, and the rest will follow.
AVAILABLE SPECIALTY SHAPES
ARCHES
Arches can come in many different sizes and configurations, including stationary, extended, half circle, half moon, quarter circle, perfect, imperfect, eyebrow and Gothic.
ANGLES
Angled windows come in many variations, including right triangles, isosceles triangles and top/bottom-sloped windows.
CIRCLES, OVALS
We offer many versatile and durable options to help you cover even these uncommonly shaped windows.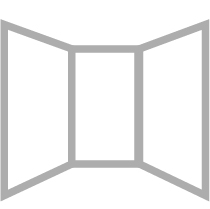 BAY AND CORNER WINDOWS
Window treatments for bay windows, corner windows and bow windows are usually standard rectangular window-treatment installations. Panels are independent of one another.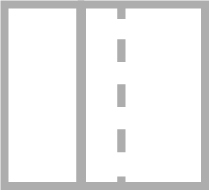 PATIO AND SLIDING GLASS DOORS
Virtually any Hunter Douglas window treatment can be outfitted for a traditional patio or sliding-glass door, but some are better suited to these and other large expanses of windows simply because they traverse horizontally.
Hexagon
While unique window shapes such as hexagons and octagons are not as common as other window shapes, Hunter Douglas still offers you the opportunity to cover them.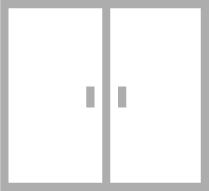 FRENCH DOORS
Window treatments for French doors are typically mounted outside of the opening (beyond the window frame), may require extension brackets or spacer blocks for proper clearance, and typically require a 'cut-out' to clear the French door handle or knob.
Cut-Outs
Cut-outs provide an opportunity to cover windows with unique architectural elements and are suggested for clearance around obstructions such as door handles, window cranks and window air conditioners.
NEWSTYLE®
COLOR COLLECTIONS
Explore all Hunter Douglas fabric & color collections through our website. Visit our 2 convenient New York City locations to see and feel the full array of colors and textures.  Experience the quality and ease of use of Hunter Douglas manual and motorized operating systems.
NEWSTYLE®
Hybrid Shutters
The NewStyle® Hybrid Shutters are plantation-style shutters that blend the beauty of real wood and advanced modern-day materials to create a stunning and durable window covering for any room.
HUNTER DOUGLAS
BUYERS GUIDE
HUNTER DOUGLAS
PRODUCT GUIDE
View Products and Compatability Below:
CONTACT OUR MANHATTAN SHOWROOMS
Come Visit Our Convenient Manhattan Locations:
PH: (212) 787 8040
 FX: (212) 787 8469
MON, WED, FRI 10:00 am – 5:00 pm
TUES, THURS 10:00 am – 6:00 pm
SATURDAY - 10:00 AM - 4:00 PM

PH:(212) 647 1519
 FX:(212) 647 1570
MON, WED, FRI 10:00 am – 5:00 pm
TUES, THURS 10:00 am – 6:00 pm
SATURDAY - 10:00 AM - 4:00 PM