PROVENANCE®
Woven Wood Shades
SHADES MADE FROM NATURAL WOODS, REEDS, GRASS & BAMBOO
Introduce an element of nature into your home with our artisanal Provenance® Woven Wood Shades.
Provenance Woven Wood Shades are crafted from natural woods, reeds, bamboo and grasses. From textured fabrics to more refined weaves, the natural fibers add an organic style to your room and filter sunlight beautifully.
Add extra flare with customizations—like valances or edge banding. Install them with or without a liner, depending on how much light-filtering and privacy you're after.
However you design them, Provenance shades provide your space with the inimitable quality only achievable with organic fibers.
KEY FEATURES
Three Styles Available—Provenance shades are available in Roman, Waterfall Roman and Vertical Drapery. Each offers horizontal and vertical applications for every window and door in your home, making the Provenance collection your whole-home solution.
Durable Fabrics—Provenance shades feature the strongest materials and craftsmanship for superb quality. Weaving techniques are engineered to minimize stretching, bowing and breaking. See the beautiful fabric choices available with Provenance Woven Wood Shades. 
Room Darkening—Optional liners are available for every style and in both light-filtering and room-darkening opacities.
Decorative Options—Edge banding and valance styles offer additional possibilities for customization.
Modern Headrail—The Modern Headrail is the first metal headrail of its kind in the woven woods category. It allows Provenance shades to function with several of our proprietary operating systems.
​
---
Orientation – Horizontal or Vertical
AVAILABLE OPERATING SYSTEMS FOR PROVENANCE®
Our brilliant wireless operating system gives you the power to control and schedule your Hunter Douglas window treatments via remote control or your mobile device, and creates a safer environment for homes with young children and pets. Learn more about PowerView®
A cordless system that lets you simply push up with your hand to raise and pull down to lower.
Features a retractable wand to raise and lower your window treatments. A retractable cord and wand means there are never any long, dangling cords to detract from the appearance of the shade or blind and promote child safety.
Pulling down on the front of this continuous loop lowers your shade. Pulling on the rear of the loop raises it.
---
Standard Cordlock
It acts like a cord, but locks into place for easier operation and a cleaner appearance. Cord cleats are included.
---
Top-Down/Bottom-Up
Open from the top or the bottom, or settle somewhere in between, to create the perfect balance of privacy and natural light.
---
Continuous Cord Loop
A continuous loop works on the principle of a pulley, rotating a clutch to raise or lower the shade.
---
Eliminates looped pull cords completely, replacing them with a wand that remains safely out of a child's reach.
---
AVAILABLE SPECIALTY SHAPES
ANGLES
Angled windows come in many variations, including right triangles, isosceles triangles and top/bottom-sloped windows.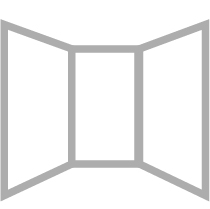 BAY AND CORNER WINDOWS
Window treatments for bay windows, corner windows and bow windows are usually standard rectangular window-treatment installations. Panels are independent of one another.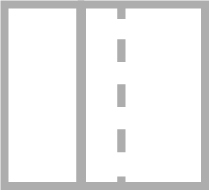 PATIO AND SLIDING GLASS DOORS
Virtually any Hunter Douglas window treatment can be outfitted for a traditional patio or sliding-glass door, but some are better suited to these and other large expanses of windows simply because they traverse horizontally.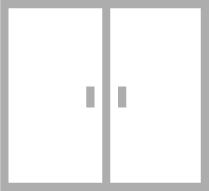 FRENCH DOORS
Window treatments for French doors are typically mounted outside of the opening (beyond the window frame), may require extension brackets or spacer blocks for proper clearance, and typically require a 'cut-out' to clear the French door handle or knob.
PROVENANCE®
Woven Wood Shades
Explore all Hunter Douglas fabric & color collections through our website. Visit our 2 convenient New York City locations to see and feel the full array of colors and textures.  Experience the quality and ease of use of Hunter Douglas manual and motorized operating systems.
FOR SMART LIVING
PowerView® Motorization lets you schedule your Shades to open and close on their own—at any time of the day—with the touch of a button, a tap on a mobile device or the sound of your voice. So forgo the alarm clock, and use light as a wake-up call instead.*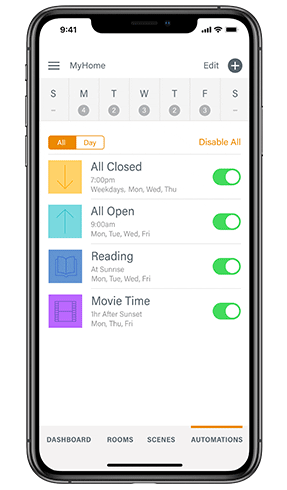 HUNTER DOUGLAS
BUYERS GUIDE
HUNTER DOUGLAS
PRODUCT GUIDE
View Products and Compatability Below:
CONTACT OUR MANHATTAN SHOWROOMS
Come Visit Our Convenient Manhattan Locations:
PH: (212) 787 8040
 FX: (212) 787 8469
MON, WED, FRI 10:00 am – 5:00 pm
TUES, THURS 10:00 am – 6:00 pm
SATURDAY - 10:00 AM - 4:00 PM

PH:(212) 647 1519
 FX:(212) 647 1570
MON, WED, FRI 10:00 am – 5:00 pm
TUES, THURS 10:00 am – 6:00 pm
SATURDAY - 10:00 AM - 4:00 PM