NEW YORK CITY'S HUNTER DOUGLAS BLINDS, SHADES, SHUTTERS AND MOTORIZATION SPECIALISTS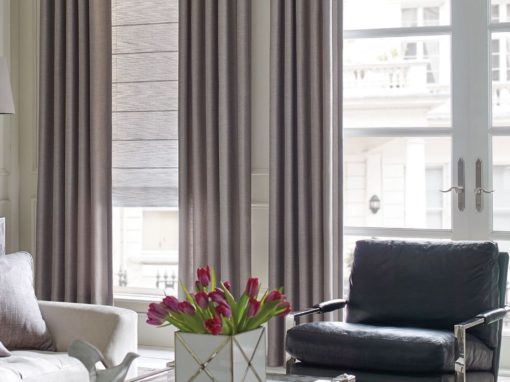 Select a Hunter Douglas Product line above and explore Specifications, Fabric Colors, Lift Operating Systems and More.
Why Motorized Blinds?
Added Convenience—easily control shades with a button press, tap on your mobile device, automatically, or even with your voice.
Increased Privacy—schedule shades to automatically close whenever you want.
Better Energy Efficiency—schedule shades to raise and lower to keep interiors warmer or cooler, depending on the season.
Enhanced Security—give your home a lived-in look while you're away by scheduling shades to automatically raise and lower at set times.
Safer for Children—because smart shades lack lift cords, they're a safer option than shades with exposed cords.
Alustra® Architectural Roller Shades
Sophisticated fabrics paired with a unique design. A modern spin on a traditional roller shade.
Explore Alustra® Architectural
$1,200 Federal Tax Credit for Duette®
Help reduce your monthly utility costs with Hunter Douglas shades specifically designed to provide year-round insulation
Contribute to a more sustainable environment by lowering your energy use
Contact Us Here To Learn More
Silhouette® Halo™ Window Shadings
Rotate up, down or anywhere in between, giving you precise light control
Explore Silhouette® Halo™
Cordless Blinds, Shades and Shutters NYC
Child & Pet Safe, Manual and Motorized Window Shade Lift Systems
Explore Cordless Shades
Mary Riley Smith
2023-05-31
Ive worked with Crosstown Shade for over 40 yrars! Always accommodating, their service and reaults are always excellent. I can always depend on them for any issues with curtains and shades. I can always count on them for a job well done.
karen danziger
2023-04-10
They are incredibly accommodating and the tech staff is superb! Smart, efficient, they know their stuff!
Today Crosstown delivered and installed my new vertical blinds and I couldn't be more pleased with how they look and with the professionalism of the installers. In fact the whole experience was great. The owner (Marcy) patiently helped me to choose the style and fabric that would best meet my needs and her partner Jeff was careful and expert in his measurements so that the vanes fit perfectly, even with an uneven sill. I'm delighted to wholeheartedly recommend this store!
Great customer service and support from the staff. Responsive and reliable. The installation team was great and ensured high quality.
Excellent service…wise consulting, easy communication, painless installation. We highly recommend Crosstown!
robert hirschfeld
2022-12-03
The owner of the store came over at night and fixed a set of problems on the electric shade that he didn't have to do. I am forever in his debt and forever a customer of Crosstown
I have bought several shades from them and have felt really attended to in terms of shade selection, the competence of the installers and their promised measuring and installation dates met. I highly recommend them and would definitely use them again.
William O'Brien
2022-11-02
The team of David and Tim did an excellent job of installation. They were efficient and worked very well as a team. Their work was A plus. They were also most helpful in describing the mechanics and the usefulness of other products, such as chargers. I had the utmost good experience my with installation of my solar blinds.
Naja Christensen
2022-10-17
I contacted Crosstown Custom Shades & Glass for a sliding glass shower door to be installed on top of a bathtub. Marcy made the process so easy and smooth with sound advice on options for suitable design etc. Her technical crew came out to measure and later install. Super professional, service minded, attention to detail and an overall very pleasant crew. I highly recommend Marcy and her team and would use this company again.
I WANT TO SHARE AN AMAZING EXPERIENCE WITH CROSSTOWN SHADE AND GLASS. THERE SERVICE (EVEN THOUGH I DIDNT BUY THE SHADES THERE) SURE WISH I DID!! THERE SERVICE MAN TIM AND DAVID TREATED MY BLIND REPAIR AS IF I WAS A VALUED CUSTOM WITH PRECISION AND CARING AND YES IMMEDIATE SERVICE WHICH WAS SO BLESSED TO RECEIVE. THANK YOU MARCY, TIM AND DAVID FOR ALL PROFESSIONAL SERVICE . I SO APPRECIATE IT. LOIS ZINMAN
Custom Drapery
Nothing beats the beauty and elegance of custom made drapery
Shower Glass
Add depth, light and luxury with a glass shower door & enclosure
Mirror & Glass
Add space to small rooms or refinement to any home
HUNTER DOUGLAS ESSENTIALS
FOR NEW YORK CITY LIVING
HUNTER DOUGLAS
BUYERS GUIDE
HUNTER DOUGLAS
PRODUCT GUIDE
View Products and Compatability Below:
COVID-19 Update
BOOK A VIRTUAL CONSULTATION OR IN-SHOWROOM APPOINTMENT
Crosstown Custom Shade & Glass continues to monitor health and safety concerns related to the COVID-19 outbreak in New York City. Our staff and installation crew are all in good health and ready to serve you in compliance with New York State Health Guidelines and Best Practices. 
For your convenience, we are glad to offer virtual consultations via Zoom. This meeting option allows us to show and explain the various products we have within our website and showroom, while you're in the comfort and safety of your home.
Crosstown Custom Shade and Glass will be proactive and take all precautions as we get through this together. Wishing you all the best during this challenging time.
Your friends at Crosstown Custom Shade and Glass
BOOK AN IN-STORE CONSULTATION
UPPER WEST SIDE, MANHATTAN
PH: (212) 787 8040
MON, WED, FRI
10:00 AM – 5:00 PM

TUES, THURS 
10:00 AM – 6:00 PM
SATURDAY - 10:00 AM - 4:00 PM
SUNDAY - CLOSED
GREENWICH VILLAGE, MANHATTAN
PH: (212) 647 1519
MON, WED, FRI
10:00 AM – 5:00 PM

TUES, THURS 
10:00 AM – 6:00 PM
SATURDAY - 10:00 AM - 4:00 PM
SUNDAY - CLOSED
New York Living
Your home is your sanctuary.  
A place to relax, unwind, feel comfortable – a reprieve from the hustle and bustle of New York City life.
Regardless of your preferred style – whether casual, contemporary, eclectic or luxurious – the furnishings, window treatments, glass and mirror together create your unique space. 
That's where we come in. We can help you achieve the feeling you want to come home to.  
We will share our ideas from years of experience. We work with you to understand your design preferences, functional requirements and budget.
From inception to completion, your satisfaction is our goal.
We are a Hunter Douglas Authorized Automation Center.  Our automation experts can meet any window covering automation need.
Window covering motorization has long been popular for window treatments in hard to reach places, like skylights and vaulted ceilings.
Automating window fashions allows you to easily maintain your view while protecting the interior of your home or business.
CONTACT OUR MANHATTAN SHOWROOMS
Come Visit Our Convenient Manhattan Locations:
PH: (212) 787 8040
 FX: (212) 787 8469
MON, WED, FRI 10:00 am – 5:00 pm
TUES, THURS 10:00 am – 6:00 pm
SATURDAY  10:00 PM - 4:00 PM
PH:(212) 647 1519
 FX:(212) 647 1570
MON, WED, FRI 10:00 am – 5:00 pm
TUES, THURS 10:00 am – 6:00 pm
SATURDAY 10:00 AM - 4:00 PM